Originally opened in 1978,
Paperback Shack has been serving Niles, Ohio for over 40 YEARS!
In 2015, the original owner retired. A new owner took over and immediately began revitalizing this well loved bookstore (see pictures below).
Everyday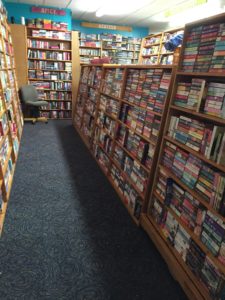 we have new customers visit the store and say they didn't know we exist or we have previous customers tell us they thought we closed. We never closed and we don't plan on closing. We also have people comment on how bright, organized and clean we keep the store, especially people who last visited before July 2015. So, I will address it here – the store is clean, it no longer smells bad (I'll go a step further and say it smells like a bookstore – when I walk in the morning, I inhale deeply to enjoy the wonderful scent), we cleaned, painted, organized, installed new flooring, ceiling, and lights. Customers no longer shop in the dark closet, nor in the backroom (both have been converted to storage and the books moved to the sales floor). There is still a bookstore in the same location it's been for over 40 years, but it's not the same – and we are very proud of the changes we've made. We will continue to make improvements and expand our inventory of books and bookish products. Visit us to experience and the upgrades for yourself.